Repeat SMS
SMS Repeat - re-order a virtual number (which was used earlier) to accept messages from the same service or any services, if the number for all services was originally ordered.
Important! Only Russian numbers have the SMS Repeat option, numbers of other countries cannot be ordered again.
Repeat number purchase
To order a number with the possibility of repeated reception, you must select the option "Repeat SMS" in the settings in the settings:
The issued number will have a life of 30 days, and it can also be renewed every month.

After ordering such a number and receiving an SMS, it will start to be displayed in the Replay SMS and Renewal numbers tab.
Re-ordering a room within 30 days is free.
Now, if it becomes necessary to send repeated sms to this number, then you need to follow the instructions described below.
Get a number to repeat
First of all, you need to go to the "Repeat SMS" section.
Each user in the section appear those services for which he acquired numbers.
I would like to note that the user can have a large number of services, so we introduced a search system :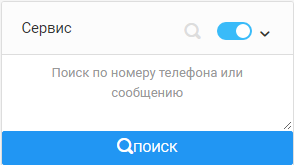 To implement the "Search" option correctly, you need to enter the whole number (or the first digits) or the message (part of the message) and click "Search".
To get a number, the client needs to enter the service he needs.
Next, you need to click on the number, and the operation of issuing it will begin.
After the number is issued (it usually takes up to 10 minutes), you can send to the issued SMS number.

The form of repeated SMS receipt is the same as in SMS Reception.

Price and time of order
Re-ordering a room within 30 days is free.
The number of repeated orders numbers per month - unlimited.
You can re-order a room from Mon to Sun from 9.00 to 19.00 Moscow time.
With you, your Onlinesim.