Functionality of redirection
In this article, we are going to tell you how to use forwarding with a virtual number, and elaborate on its functionality.
If you haven't yet enabled forwarding, follow this link: Call Forwarding, and get familiar with the conditions and possibilities of forwarding enabling.
There are two types of forwarding presented on our website:
Forwarding WITH SMS MESSAGES;
Forwarding WITHOUT SMS MESSAGES.
Virtual numbers intended for reception of calls have an advanced functionality:
It is possible to change the forwarded number, and also to change the priority (see Call Forwarding);
Overall Balance (Profile Balance);
The possibility to forward a call from an unobtainable personal number to an obtainable one in accordance with the priority.
The virtual number provided together with forwarding will be valid within 30 days if you do not activate the Auto function, which we are going to elaborate on below. If the Auto function has been activated, the virtual number will be renewed (see Virtual Number Renewal).
Basic Actions
The basic actions on the enabled forwarding function are preformed in the Forwarding subsection which is opened by clicking on the "gear" icon.
When going to that section we see a table with the numbers (Figure 1) which the forwarding function has been enabled for.

(Picture 1)
"Forwarding" is a column with the numbers which the forwarding function has been enabled for (Next – Your Number).
Click on the number to open the menu for editing the numbers and the call forwarding priorities.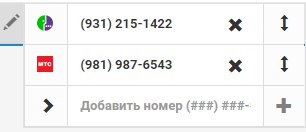 (Figure 2)
After editing or making any other changes it is mandatory to click on the button to save the changes.
"Parameters" are the virtual numbers, the calls from them will be forwarded to your numbers.
The line also displays the duration of the number's work in days. If you need the number for a long period of time, you should enable Auto Renewal in advance: tick the box next to the quantity of days.
The "exclamation mark" is the button for calling up the block with additional information about the incoming calls to the selected number.
This block contains information on the calls forwarded to the number: the prices, the conversation duration in minutes, and the caller's number.

(Figure 3)

- the function for saving the parameters entered.

- disabling of forwarding

- calling up the number to have the message repeated (it cal also be used to receive SMS messages from new services); the option is available only for numbers with the forwarding function "With SMS Messages".
We hope we've been able to provide you with full information on how to use forwarding correctly and with maximum convenience.
If you still have any questions, please read our article "Examples of Working with Forwarding".
Cordially yours, Onlinesim.