Call forwarding


Forwarding is actually redirection of calls from one number (which is issued on our website) to your personal number.
This service can be enabled in the separate Forwarding section, and the information related to the numbers, their renewal, and debitings for calls can be found in the subsection which is opened by clicking on the "gear" icon.
• The cost of enabling the forwarding function is equal to 40 RUR.
• Irrespective of the region and operator, a minute of an incoming call costs 2 RUR.
• Forwarding can be enabled for multiple numbers at the same time (read more below).
• Full statistics on each call
Instructions
Step 1 - Add numbers and arrange according to their priority
After the update of forwarding, the possibility has emerged to link multiple real numbers to one virtual number.
For example, someone calls you, and the call is redirected to the first real number, it appears to be unobtainable (switched off or busy), and then the call is automatically forwarded to the second number selected by you, etc.
For that purpose, you have to add several numbers, select them, and arrange them in the descending order of the call reception priority using the arrow.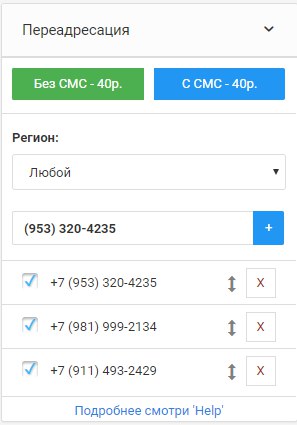 Step 2 - Select the region
You can select one of the provided regions in the relevant column.
The region affects the numbering code: the first three digits of the number (981, 951, 980, etc.).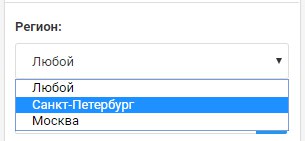 It should be noted that if the region is not important for you, you needn't select it.
Step 3 - Enable Forwarding
After selecting the numbers, arranging the priorities, and designating the region, you can order the forwarding function.
There is the possibility to purchase two types of forwarding: "Without SMS" (only forwarding), or "With SMS" (message reception + forwarding) (such a number can also be used for reception of repeated messages).
Forwarding without the possibility to receive messages is enabled automatically, immediately after the purchase is made.
If you need to receive messages (for example, to confirm your registration on AVITO), you must choose "With SMS".
After ordering the forwarding function "With SMS" you will be issued a number which can be used to receive messages from any service.

Important! You can receive an unlimited quantity of messages: any quantity of SMS messages from as many services as you wish.
Forwarding is confirmed automatically after the first SMS message is received.
All the information related to setting up forwarding, changing the numbers, detailed information on the calls, this all is now located in the subsection opened by clicking on the "gear" icon. The video instructions show that in detail.
Thank you for your attention! Please ask all your remaining questions in Tickets.