Call Forwarding
Call forwarding - automatic forwarding of incoming calls from a virtual to a personal
phone number.
For all Russian regions and mobile operators (mobile or landline) one minute rate for a forwarded call is 3 roubles.
SPB
Advertisement

Avito.ru

1-room flat, 38 m2, 15/20 floor
17 Elizarovskaya Str, St. Petersburg

Call forwarding
MSK
Advertisement

Youla.ru

2-room flat, 52 m2, 20/23 floor
125 Balaklavskiy Ave.

3
per minute calls in Russia
Moscow/St. Petersburg
numbers with a regional prefix
detailed calls statistics

Receive warm calls from loyal customers thanks to the placement of advertisements on various virtual numbers (advertisements will be perceived as personal) and the equivalence of a number's prefix to a home region.
How it Works?
We register personal accounts on virtual numbers (Avito.ru, Auto.ru, Youla.io, Tiu.ru, PROFI.RU)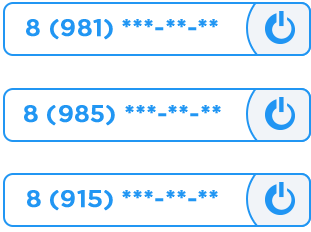 We place ads with indication of a virtual number, and set up forwarding to our number
Advertisement

Avito.ru

2-room flat, 52 m2, 20/23 floor
125 Balaklavskiy Ave.

We accept warm calls from clients.

Without forwarding
The first ad: for free
The second ad — 5.98$
The third ad — 5.98$
Total: 11.97$
With forwarding
The first ad: for free
The second ad — 1.17$
The third ad — 1.17$
Total: 2.33$
Profit:
9.63$
* for 3 ads on Avito.ru in the Real Estate category as of 01.02.2020

Call forwarding from a virtual number makes it possible to to repeatedly use free services provided by trading and advertising platforms. The policy of such platforms is that the client receives a package of free services (for example, Avito allows the user to place an ad once in the Real Estate section to sell an apartment). After using free services the client is offered to purchase the same services for money. If you register a new personal cabinet with forwarding enabled, you will be able to use the free package again, receiving calls at your own number as before.

At present, the forwarding enabled on our website provides a functionality that is extensive but at the same time associative and comprehensible. The client is provided with a convenient table of numbers: the numbers which the call will be forwarded to can be enabled, disabled and changed literally in one click. It should be noted that when using the forwarding service you enhance the loyalty of your ads as the numbers are different, and your client will be sure that the ads are private. Also there is the possibility to purchase numbers of your region to enhance loyalty, as the customers always feel more confident when calling local numbers.