Repeat SMS
In the "Receiving SMS" section, the user purchases a number and uses it to receive a message in a service. After registering with the service, you may need to resend the message to this number for confirmation or recovery . For this situation, on our site there is a section called "SMS Replay" (Fig. 1).
Important! If your service requires a permanent Reception, then you need a long-term possession of the numbers, then be sure to check out the option, such as Renewing the number . It gives you the opportunity to extend your number - to receive messages as long as you need.
Acquisition of number with repeat
In order for the site to issue a number with the possibility of a SMS, it is necessary to select the "Repeat" or "Repeat + Renew" service strictly before the number is purchased in the settings and click "Save".
After ordering such a number and receiving sms, it will start to appear on the Repeat SMS tab.
Now if you need to send a second SMS to this number, you should follow the instructions described below.
Calling a number to repeat
A clear instruction for the operation "SMS snooze".
First of all, you need to go to the "Repeat SMS" section.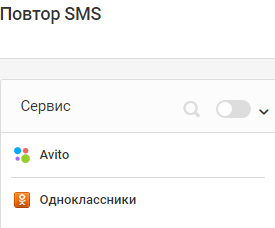 (Picture 1)
Each user in the section appears those services to which he purchased the numbers.
I would like to note that the user can have a large number of services, so we introduced a search system (Figure 2):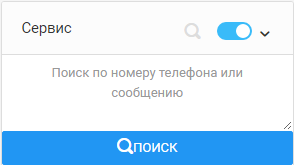 (Figure 2)
To perform the correct operation of the "Search" option, you must enter the whole number (or first digits) or the message (part of the message) and click "Search".
Work in the section is carried out as follows :
The client needs to go to the service he needs.
Then you need to click on the price of the service, and the operation of issuing the number will begin.
After the number is issued (Figure 3), you can perform a re-reception operation.


(Figure 3)
The form of the second Reception is the same as in the "Receiving SMS" (Fig. 4).


(Figure 4)
It is worth noting that the operation window has the same Statuses as the operation window in the "Receiving SMS" section:
- Waiting for the number, waiting for the message, the message came. And two statuses that report the end of the number usage time: the first status indicates that the operation was completed by receiving the message, the second indicates that the reception failed.
This is so simple and simple work is carried out in the section "SMS Replay".
With You Your Onlinesim.