Repeat SMS
In the "SMS Receive" section, the user purchases a number and uses it to receive messages from a service. After registration with the service it may be necessary to re-send a message to that number for the purpose of confirmation or recovery; for this situation, there is the "SMS Repetition" section on our website (Fig.1).
Important! If your service requires constant Reception, that is, long-term ownership of numbers is necessary, make sure to read about such an option as Number Renewal. It will allow you to renew your number: to receive messages for as long as needed.
Purchasing a number with the possibility of repetition
For the website to issue a number with the possibility of SMS repetition, you have, strictly prior to purchasing the number, to select the "Repetition" or "Repetition + Renewal" service in the settings and click Save.
After ordering such a number and receiving SMS messages, it will be displayed in the SMS Repetition tab.
Now, if there emerges a need to send a repeated SMS to this number, you should follow the instructions described below.
Calling up the number for repetition
Here is a graphic instruction of how to perform the SMS Repetition operation.
First of all, go to the SMS Repetition section.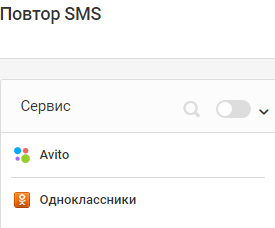 (Picture 1)
For each user, the services will be displayed in the section, which they have purchased numbers for.
It should be noted that the user may have a great quantity of services, therefore we have introduced a search system (Fig. 2):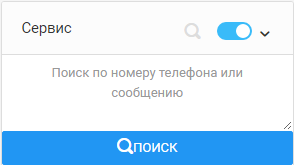 (Figure 2)
For correct work of the Search option, you have to enter the full number (or the first digits) or the message (part of the message), and click Search.
Work in this section is performed as follows:
The client has to go to the required service.
Then, it is necessary to click on the price of the service, and the number issue operation will start.
After the number is issued (Fig. 3), the repeated reception operation can be performed.


(Figure 3)
The form for "Repeated Reception" is the same as for "SMS Reception" (Fig. 4).


(Figure 4)
It has to be noted that the operations window has the same Statuses as the operations window in the "SMS Reception" section:
- Number Wait, Message Wait, Message Arrived. And there are two statuses reporting of the expiration of the number use period: the first status shows that the operation has been completed with message reception, the second one reports that the reception has failed.
So, this is the easy and simple way of working in the "SMS Reception" section.
Cordially yours, Onlinesim.