Functionality of redirection
In this article we will talk about how to use the redirection on a virtual number, and we'll talk in detail about its functionality.
If you have not already connected the call forwarding, then follow the link - Call forwarding and see the conditions and possibilities for connecting the call forwarding.
On our website, redirection is presented in two forms:
Redirect with SMS ;
Redirect without SMS .
Virtual numbers for receiving calls have advanced functionality:
It is possible to change the forwarded number, as well as change the priority (see Call Forwarding );
Single balance (Balance of profile);
The ability to redirect a call from an inaccessible personal number to an available one in order of priority.
The virtual number provided with redirection is valid for 30 days, if you do not set the "Auto" function, we'll talk about it in more detail below. If "Auto" is connected, then the virtual number is extended (see Extension of the virtual number ).
Basic Actions
The main actions on the connected forwarding are performed in the subdivision of redirection, which is opened by clicking on the "gear".
Having entered into this section, we see the table with the numbers (Figure 1), on which the redirection is connected.

(Picture 1)
"Forwarding" - a column with numbers to which forwarding is connected (Next - your number).
Pressing the number opens the menu for editing the numbers and priorities for call forwarding.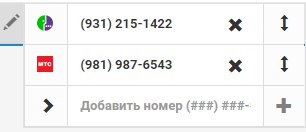 (Figure 2)
After editing and any other changes, you must press the save changes button.
"Options" - virtual numbers, from which calls are redirected to your numbers.

Also in the line is the number of days that the number will work. If the number is needed for a longer period, then it is necessary to pre-set auto-prolongation in advance - a tick opposite to the number of days.
"Exclamation mark" - a button for calling a block with additional information about incoming calls to the selected number.
This block contains information about call forwarding to the number: prices, minutes of the call and the number of the caller.

(Figure 3)

- function to save the entered parameters.


- Disable redirection.

- call the number to repeat the message (you can also use it to receive SMS from new services); option is only available for numbers with redirection "SMS".
We hope that we were able to fully explain how to correctly and most conveniently use the redirect.
If something still raises questions, then read our article " Examples of working with redirects ."
With You Your Onlinesim.